Every small and medium business needs a printing partner to make them look professional. Let us be your partner.
Hand held printing services for small business. We will help you get all your printing needs off the ground quickly and at an affordable price. No job is too small.
When you use a professional broker, we'll walk you through the process of all your printing needs. We'll help you choose the right paper that's better suited to convert a potential customer into a buyer.
Understanding profesional printing
What is Bleed?
Bleed is the extension of artwork past the trim edge to all for cutter variance. Items such as background and design elements should always extend to the bleed line.
A 1/8″ bleed is required on all four sides of your artwork. By having bleed on your artwork it helps to ensure that the colour goes edge to edge as designed.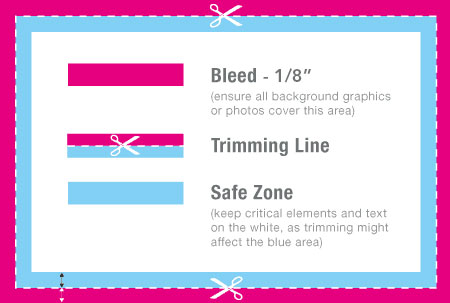 Trimming Line – This is where the printer aims to cut the product.
Safe Zone – this is the safe area away from the trimming line. By keeping any text or sensitive information contained in the safe zone ensures that it won't get cut off.  
Brochure Folding Types
Tri-Fold/Letterfold/Roll Fold: three-panel brochure has both side section folded inward, one on top of the other. Each panel 1/3 the length of the brochure.
You can click below to view Business Cards, Logo's and Presentations that LJ Sales has designed.