Every small and medium business needs a printing partner to make them look professional. Let us be your partner.
Hand held printing services for small business. We will help you get all your printing needs off the ground quickly and at an affordable price. No job is too small.
When you use a professional broker, we'll walk you through the process of all your printing needs. We'll help you choose the right paper that's better suited to convert a potential customer into a buyer.
Understanding profesional printing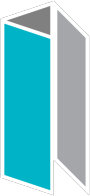 Letterfold (Tri-fold, Roll fold):
8.5″ x 11″ sheet of paper printed both sides and folded into thirds and will fit into a #10 envelope.

Half Fold:
A sheet of paper printed 2 sides folded in half.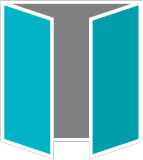 Single Gate Fold: 
The left side and right side are folded into the middle.

4 Panel Accordion Fold:
A legal or tabloid sheet of paper folded into 4 panels.
What is Bleed?
Bleed is the extension of artwork past the trim edge to all for cutter variance. Items such as background and design elements should always extend to the bleed line.
A 1/8″ bleed is required on all four sides of your artwork. By having bleed on your artwork it helps to ensure that the colour goes edge to edge as designed.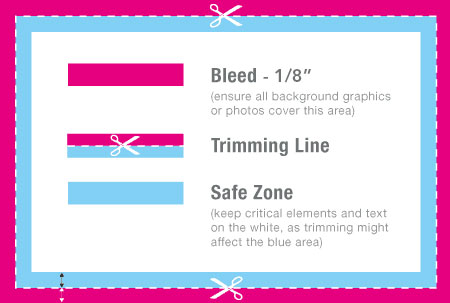 Trimming Line  
This is where the printer aims to cut the product.
Safe Zone
this is the safe area away from the trimming line. By keeping any text or sensitive information contained in the safe zone ensures that it won't get cut off.
Types of Printing Finishes
AQ Coating
Aqueous coating is a clear, fast-drying water-based coating that is used to protect printed pieces. It provides a high-gloss or matte surface that deters dirt and fingerprints.
Lamination
Laminated Printing refers to printed pieces that have been enclosed between two sheets of clear plastic film. Printing is laminated to protect it from stains and moisture, to increase its strength and durability, and to add sheen and vibrancy to its ink colors.
Matte Finish 
Matte paper has a semi-gloss finish, produces high quality prints, but lacks the vibrant effects of gloss paper. Matte paper produces no glare and is resistant to smudging and imprints left by fingerprints.
Velvet Soft Touch
Soft touch lamination, sometimes called Cellotouch, offers a protective finish with a matt effect and a soft, velvet-like texture. As a result of its premium feel, soft touch lamination is ideal for use on luxury packaging, high-end brochures and business cards.
UV Coating 
Gloss/High Gloss UV coating consists of applying a varnish to standard printing product and then sealing it with UV light. As a result, the colors are enhanced and the product looks glossy. Additionally, it makes the gloss paper more resistant to any external element which may damage the ink or quality.
Spot Finish 
Spot UV refers to the application of this UV Coating to a specific area (or areas) of a printed piece rather than coating the entire surface. Used primarily as a design technique, Spot UV is a creative way to add depth and contrast through varying levels of sheen and texture.
You can click below to view Business Cards, Logo's, Presentation Folder, Postcards, Brochures and Thank You & Holiday Cards that LJ Sales has designed.